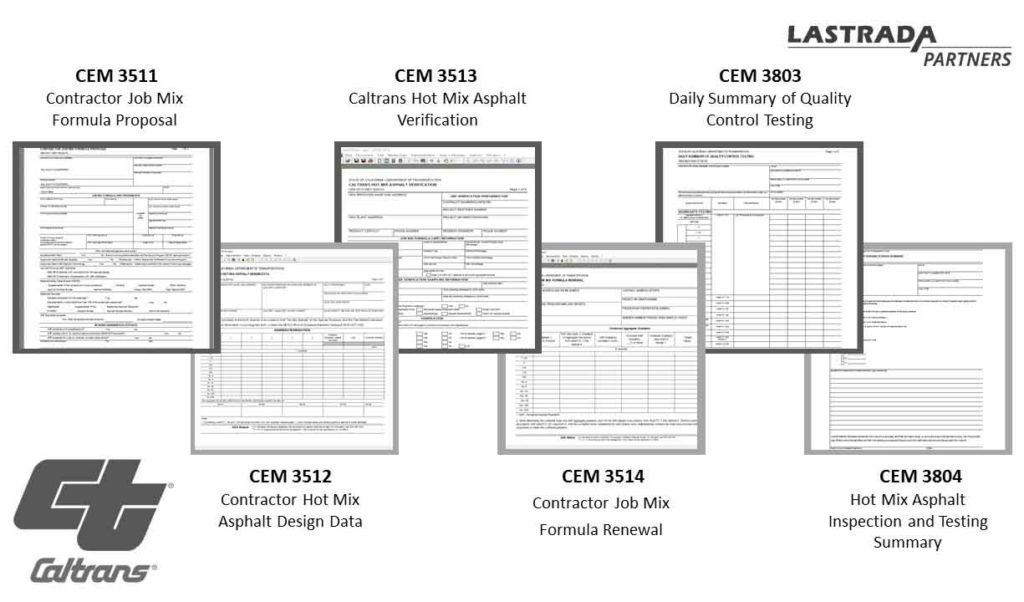 Library of CEM Forms Prepared for California Customers
A library of California Department of Transportation (Caltrans) hot mix asphalt testing and inspection Caltrans forms have been added to LASTRADA™ for use by customers in California. The following CEM form layouts are now available in LASTRADA:
CEM 3511 Contractor Job Mix Formula Proposal
CEM 3512 Contractor Hot Mix Asphalt Design Data
CEM 3513 Caltrans Hot Mix Asphalt Verification
CEM 3514 Contractor Job Mix Formula Renewal
CEM 3803 Daily Summary of Quality Control Testing
CEM 3804 Hot Mix Asphalt Inspection and Testing Summary
CEM 3512 Contractor Hot Mix Asphalt Design Data (Proposed for use in 2018)
The interest in LASTRADA within California has been substantial, so we felt it appropriate to proactively add a library of the common forms construction materials producers and construction materials testing laboratories regularly submit to Caltrans. These Caltrans forms collectively represent approximately 50 pages of data submitted to Caltrans on an ongoing basis.
LASTRADA Partners also has a larger library of forms ranging from material submittals and equipment inventory to complex statistical and graphical analysis reports. Any customer is free to modify these templates or create their own using the template toolbox included with every LASTRADA installation.
RETURN TO NEWS